Litter C "Ancient" pedigree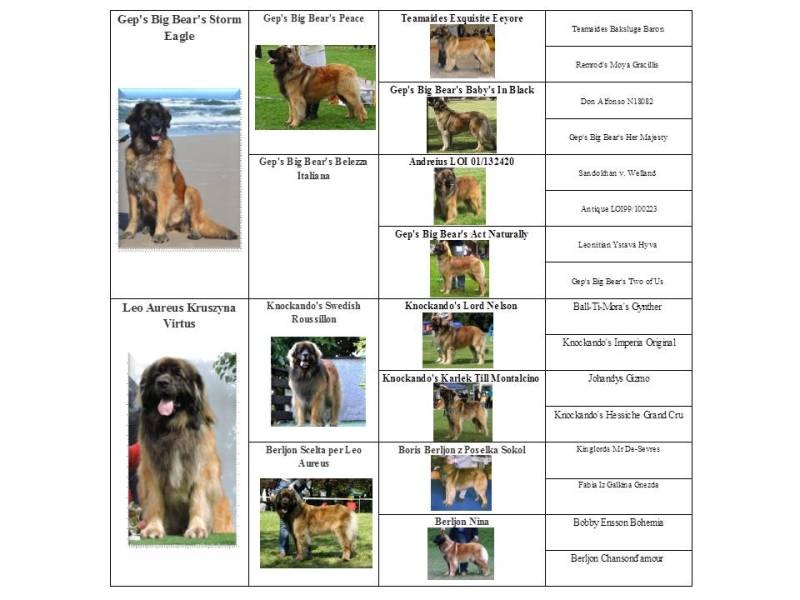 Mother - Storm Eagle Gep's Big Bear's, HD/A, LPN1 N/N, E 0/0 (import from Sweden after exeptional Peace Gep's Big Bear's and Belezza Italiana Gep's Big Bear's), our Storm Eagle is Polish Champion. W dwóch miotach pokazała się jako znakomita matka i dawczyni dobrych genów (sukces w Leonbergu 2016). To będzie jej trzeci miot z równie starannie dobranym samcem. Storm Eagle jest piękną suczką z wyraźnie zaznaczonymi cechami płci, z dobrą kością, jest dobrze umięśniona, ma piękną szatę z bardzo wyraźną maską i ma zbalansowany ruch.
Ojciec to Leo Aureus Kruszyna Virtus "Mieszko", HD/A, LPN1 N/N, LPN2 N/N E 0/0 (matką jest Berljon Scelta per Leo Aureus, a ojcem jest Knockando's Swedish Roussillon), Virtus "Mieszko" jest Championem Łotwy i Litwy, młody, duży samiec, ma bardzo harmonijną budowę z szeroką klatką i z mocnym zadem, bardzo dobre kątowanie. Ma piękny długi włos i umaszczenie, świetny ruch i wspaniały charakter.
Gallery: